Clear pathways for every student journey.

Improved Student Completion Rates
Recognize barriers to completion for students and inform retention action at key points in the student journey using Degree Velocity®, Early Momentum and DFW metrics.

Equitable Outcomes
Identify target student populations and employ strategies to accelerate progress using intelligence from course access analytics.

Student Demand Alignment
Minimize scheduling disruptions and align with students' needs by creating schedules based on forecasted course demand.

Program Pathway Management
Define and manage student pathways for improved course recommendations, student success reporting, and institutional planning.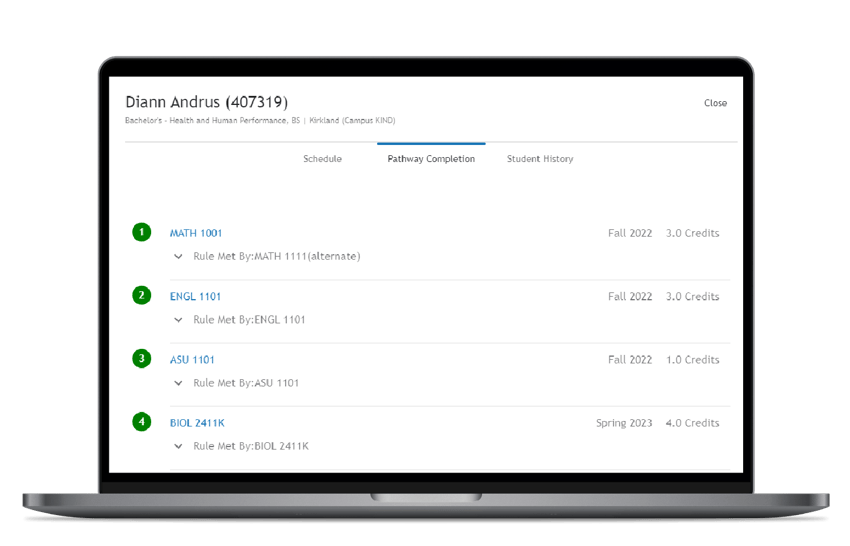 STUDENT DEMAND FORECASTING
Proactively meet student demand with market-leading predictive analytics.
Employ our patented process that predicts course demand using degree pathways and historical enrollment patterns. Compare forecasted demand with tentative offerings to receive change candidates that align with students' needs, improve resource utilization, and minimize disruption.
×
Model incoming and transfer student populations
Create a course schedule that considers your incoming students and leads to graduation.
Mitigate course bottlenecks
Combat bottlenecked course offerings by leveraging enhanced recommendations informed by both degree pathways and historical demand data.
Eliminate risk of student time conflicts
Understand which courses have a high risk of section time conflicts and view alternate, conflict-free meeting patterns.
Track student degree progress
Gain visibility into an individual student's progress toward completing their degree with pathway analyses.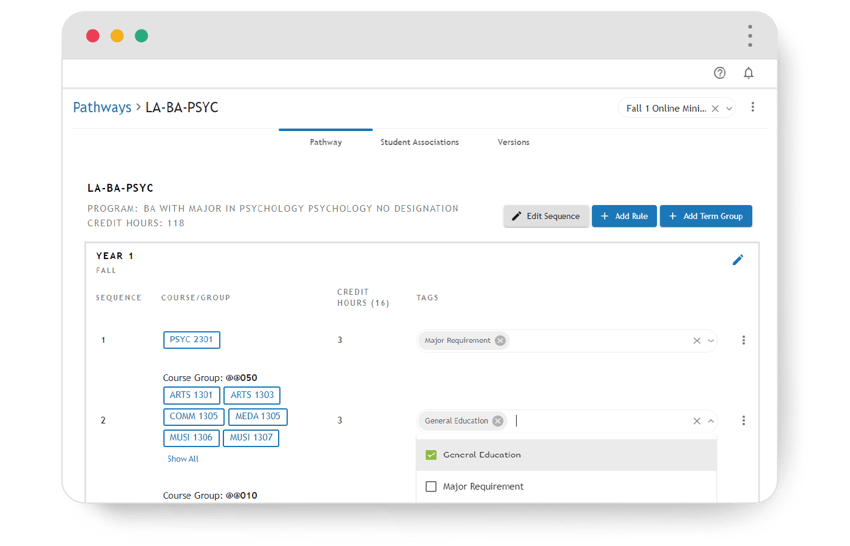 PROGRAM PATHWAY MANAGEMENT
Leverage student pathways for added insights.
Configure degree pathways that power enhanced course recommendations, student success reporting, and institutional planning.
×
Build a strong foundation
Analyze programs and manage pathway requirements to improve student outcomes and operational efficiency.

Refine degree requirements to improve outcomes
Discover and address student success barriers in your general education and major requirements.
Reduce risk of non-productive courses
Provide students an easier way to navigate course choices and enroll in productive credit hours toward their degree.
Inform future term planning
Increase predictability of student needs when planning and building schedules for future terms.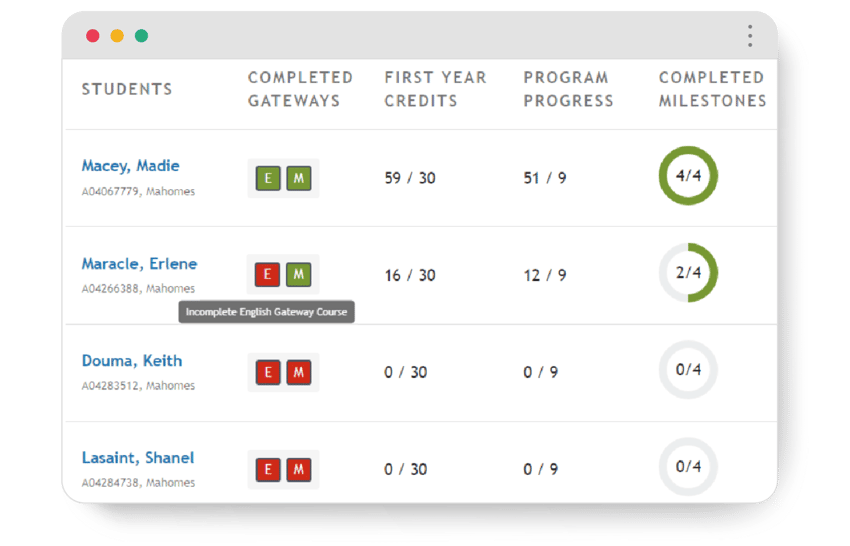 EARLY MOMENTUM & DEGREE VELOCITY®
Track and optimize leading indicators of student progress to improve retention and completion.
Create an institutional framework to accelerate students' time-to-completion and boost retention through data-backed interventions.
×
Empower student momentum
Help students start strong during their most vulnerable year of college by ensuring they have full, productive schedules that align with program pathways.
Improve Degree Velocity®
Measure real-time progress toward degree completion with leading success indicators beyond simple credit hour accumulation.
Pinpoint academic interventions
Identify potential challenges along a student's educational journey, enabling early intervention and improved likelihood of successful degree completion.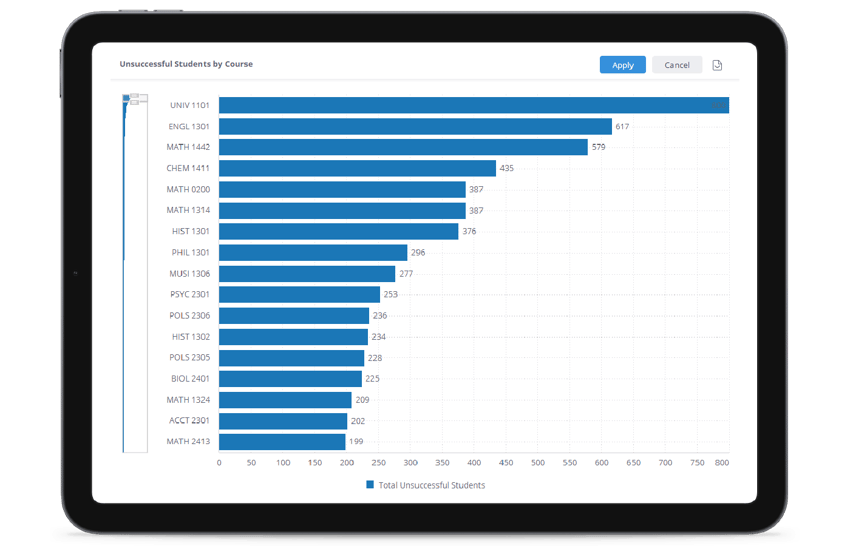 DFW ANALYSIS
Knock down barriers to student degree completion.
Discover patterns that impede student progress. Accelerate Degree Velocity® by analyzing success rates across modalities and course combinations.

×
Minimize obstacles to student success
Decrease the risk of attrition by removing toxic course combinations that hinder student access and slow Degree Velocity®.

Prioritize resources for retention
Quickly identify opportunities to change your course offering mix in order to improve student retention, progression, and graduation.

Build smarter pathways
Identify the long-term effects of modality, faculty, and course combinations on DFW rates so you can set students up for success.

Want to see our solutions in action?
Let's talk. We'd love to learn about your institution's needs and see how we can help.
Success Stories
550+ institutions. 4.5 million students. And counting.
Learn how institutions just like yours are achieving their outcomes with smarter planning and scheduling solutions.
Integrations
We partner with the industry's leading student information systems for easy, reliable integrations.