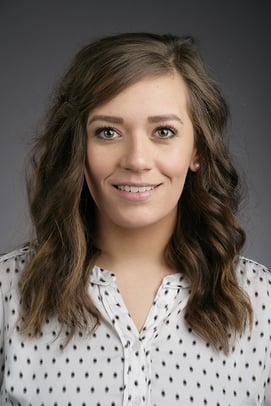 Report Hero:
Raelyn O'Neil
Institution: University of Toledo
Location: Toledo, Ohio
System Membership: University System of Ohio
Undergraduate Student Population: 13,000+
Campuses: Main Campus & Health Science campus with University of Toledo Medical Center
Raelyn O'Neil, Student Success Systems Administrator, is bridging course scheduling gaps at the University of Toledo using data-driven storytelling and historical enrollment trends to better inform the scheduling process.
As the University of Toledo's first Student Success Systems Administrator, Raelyn O'Neil had a unique opportunity to define her role. Backed by strong support from leadership, O'Neil set out to strategically transform the scheduling process, pairing her expertise with Ad Astra's analytic capabilities.
Her approach with stakeholders was incremental. While she served as the administrator of the Ad Astra platform, she used the data to create and share personalized "course cards" containing high-level data for each course, including current enrollment, room capacities, historical enrollments, and future term predictions. Additionally, Raelyn provided each college and department the top course changes recommended by Ad Astra. Departmental response forms were completed after course cards were reviewed by the colleges in order to determine why or why not faculty made certain course scheduling changes.
With this new workflow in place, Raelyn soon became the major resource for scheduling information among faculty and administrators at the University.